Every woman has the power to build the world.
Women Build volunteers come together from all walks of life to build stronger, safer communities. Women can create significant change in their neighborhoods by volunteering and bringing attention to the fact that homeownership is a pathway to better financial futures, better education, better health, and a more cared-for, connected community.
Any individual who wants to learn how to build a home is invited to join us; no experience is necessary. Volunteers work under the guidance of construction professionals and alongside other volunteers and future Habitat homeowners. Whether you are learning new skills or simply adding a few to your tool belt, this is a rewarding experience for all involved, and one that improves the community we share.
Quick facts:
Years running:
Since 2007 locally and since 1988 nationwide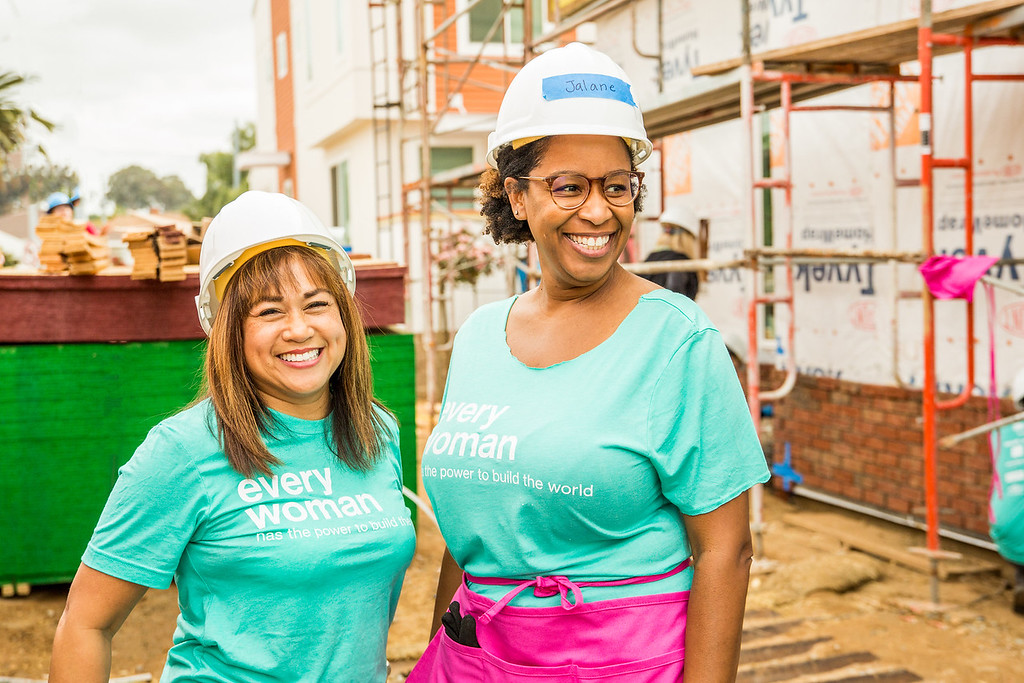 Why Women Build?
Let's start with a basic fact: Construction is still a largely male-dominated field. At Habitat for Humanity, we know that safe, affordable housing means that individuals and families have the opportunity to thrive. However, women face challenges that make it more difficult to access this basic need. These challenges include:
Higher rates of poverty for female heads of households:
Fifteen percent of adult women lived in poverty in 2017 and make up sixty six percent of the low-wage workforce. Thirty one percent of female-headed households with children are below the poverty level.

Housing discrimination:
People of color, women, and low-and moderate-income borrowers across the United States of America continue to receive a disproportionate amount of high cost loans.

The wage gap:
Women still earn, on average, 80 percent of what the average male earns. This pay gap is even greater for Black and Hispanic women, in particular.
Women Build offers the opportunity for volunteers to join us in bringing attention to systemic barriers to affordable housing, and helping to build strength and stability for all of our neighbors.
Wanna join us next time?
Sign up and we'll let you know when our next Women Build event is scheduled.
"*" indicates required fields
Event Recap
May 2023 • 210 Women Builders • over $95,000 raised
For our 15th annual event, Women Builders collectively contributed over 1,600 volunteer hours, creating true stability and strength for local families through homebuilding and repair. Over the course of five days, participants provided exterior improvements in Chula Vista as part of our Home Preservation program, built six playhouses for families in our community, and made significant headway at our 10-home site in Escondido.
Top fundraising team:
Women Who Build | $10,676
Top fundraising individual:
Pat Getzel | $2,500