As I complete my first year in leadership at San Diego Habitat for Humanity, I find myself taking time to reflect on our successes, the wonderful families we were privileged to serve, and the path we might take moving forward to achieve even more.
The housing crisis in our region won't be solved overnight, but, together, we are making a difference. As you will see in this annual report, 2022 was a productive year and we are grateful for the many donors, volunteers, and families who made it so. But there is still much to accomplish. We must consider more than today, more than just now. Our plans for the future include continuing to address the two major challenges to affordable housing in our region — lack of supply and housing inequality caused by historic policies that have exacerbated the housing wealth gap.
High housing prices are driven, in large part, by a shortfall of homes. This will remain a problem until our housing market creates an onramp for working families to access the dream of homeownership. If we increase the supply, we can make houses more affordable.
Homeownership is a proven solution, and we are actively forging partnerships and securing financial support to build larger, multi-family for-sale communities while implementing new and creative building types that allow for more homes to be built — and ultimately, sold — creating healthier, more stable families and communities.
Habitat is much more than the houses we build and repair. We are a place where people come together to make a true, lasting difference in the communities we all care for — a place where we can see the tangible outcomes of our efforts. These contributions of time, talent, and treasure can be life-changing — not only for the families we are honored to serve, but for each other as we pursue this work side by side. Because together, we are more than we are alone.
Kwofi Reed
President/CEO
"[Owning a home] will have a huge impact on our family. It will bring a sense of peace, security, and stability that we have been looking for, allowing us to plan for the future and continue to prioritize our sons' education and happiness."
Mauricio + Alejandra
Leucadia II homeowners
NEIGHBORHOOD REVITALIZATION
more than repairs
Habitat's repair programs turn houses fraught with maintenance challenges into structurally sound homes for veterans, seniors, and families.
These repairs provide more than a new space that is healthier and safer — they create a better quality of life for all who live there. These once stressful houses are transformed into more energy-efficient, comfortable places where homeowners can remain for years to come. Entire neighborhoods benefit from the preservation of homeownership and the renewed sense of pride a family feels when they can more easily maintain their homes on their own.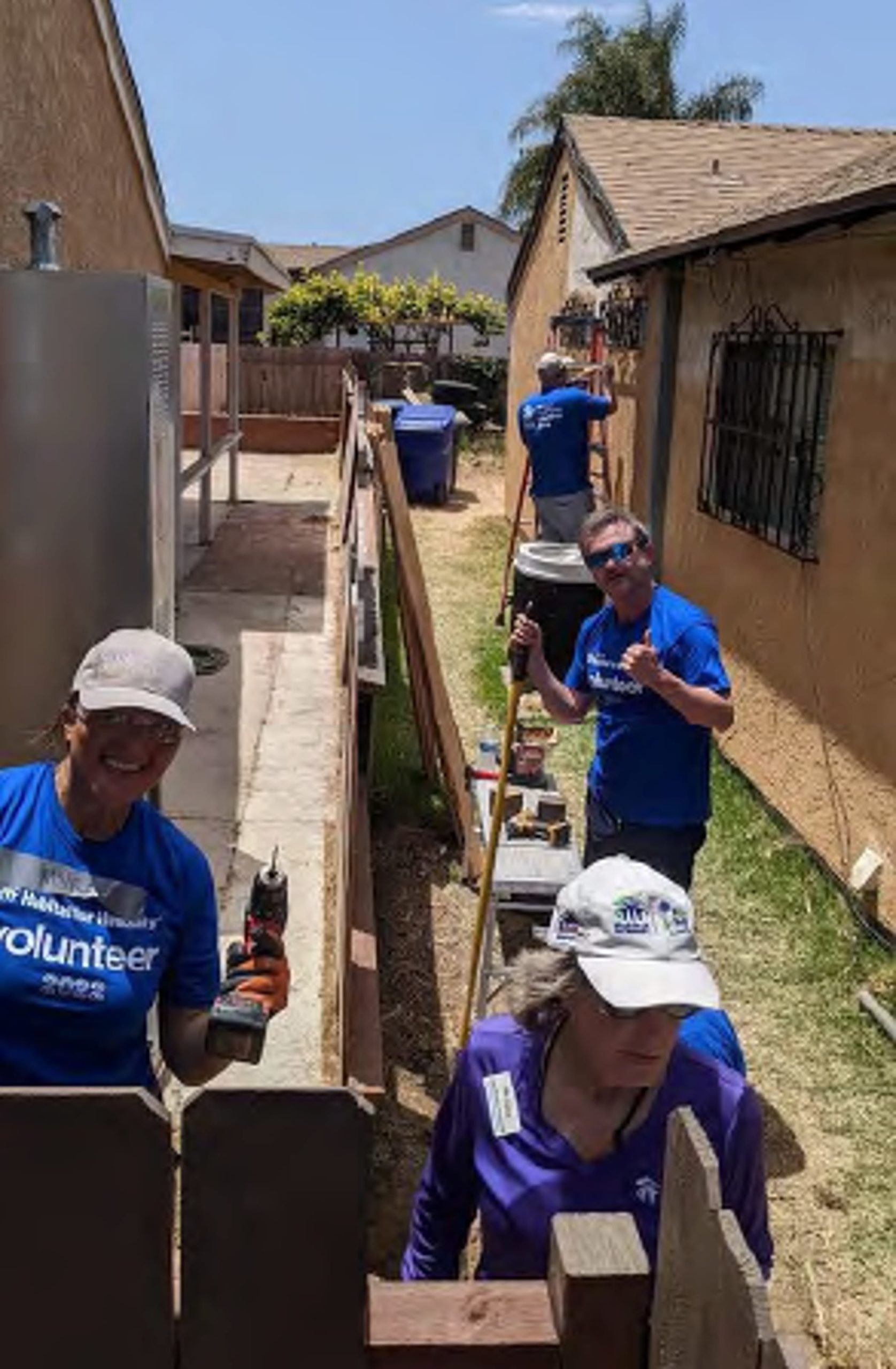 James
VetRepair homeowner
James served as an aircraft technician in the United States Navy for 20 years. After retiring, he started his own nonprofit organization that provides free rides to medical appointments for seniors. He and his wife raised two boys — both of whom also served in the U.S. military — in their home in San Diego.
The home was built in 1984 and most of the kitchen and bathroom fixtures were original. Thanks to the help of The Home Depot Foundation's Veteran Repair grant, and some amazing Regular volunteers and donors, we were able to replace cabinets, plumbing, and appliances to make James' home safer and more functional. We also did some preservation work on the home's exterior, including removal of trees whose roots were threatening the integrity of the home's foundation, fence and gate replacement, exterior painting, and installation of a new mailbox. We even installed a 20-foot flagpole so James could honor the colors every morning, as has been his tradition for many years.
Habitat's volunteers are critical not only to our homebuilding mission — their generous donation of their time and talent also builds a more connected community.
Volunteers come together from various backgrounds to create an environment of understanding and collaboration. They work side-by-side with future homeowners who will benefit for generations because of their heart. Their hands-on participation is essential in helping Habitat create a more equitable and just world, one swing of the hammer at a time.
Total volunteer hours nearly doubled from last fiscal year.
$29.95
VALUE OF A VOLUNTEER
HOUR IN 2022
source
$756,777
FINANCIAL DONATION EQUIVALENT OF HOURS CONTRIBUTED
Lou
Regular volunteer
"I can see that my work has an impact."
Lou is a true example of Habitat's mission in action. He has been volunteering with Habitat for Humanity affiliates for over 20 years. With over 1,000 hours under his belt this year, he helped construct six homes in National City, worked in our ReStores, and took a leadership role with our Playhouse Program.
Lou says he loves volunteering with Habitat because he knows that even the smallest task makes a huge difference to someone else. He enjoys seeing first-time homeowners help build their houses and achieve their dream of homeownership.
ReSTORE
San Diego Habitat for Humanity's ReStores — located in Kearny Mesa, Escondido, and National City — are the stores that build homes.
The revenue generated by selling new and gently used donations of home improvement items to the public helps fund the building of homes in San Diego County. The retail and donation centers also serve as a community recycling center, keeping usable – and often large – items out of our local landfills. They are also a valuable resource to the community, offering recycled building materials and other home items at discounted, affordable prices for homeowners seeking to maintain or upgrade their homes. At the ReStore, you'll get a great deal and will be part of a great deal more.
In the last three years, ReStore donations have diverted over 3,800 tons from local landfills.
ADVOCACY
Our advocacy efforts aim to make the production of housing more streamlined and more affordable, so the homes we build can be purchased at a more reasonable price.
We also strive to create more equity in homeownership, righting the wrongs of governments and banking institutions of the past that led to generation-affecting injustice in the housing finance market.
In September of 2021, Governor Gavin Newsom signed a package of 27 bills focused on four key areas — streamlining the building of new homes, breaking down barriers to build more affordable housing, addressing systemic bias by elevating fair housing principles, and holding local governments accountable to provide their fair share of affordable housing options. We are proud to report that San Diego Habitat for Humanity's involvement in a 40-affiliate statewide coalition led to these successes. These are more than just new laws — they are changing the face of housing as we know it.
Habitat for Humanity has a vision of an entire world where every man, woman, and child has a safe, healthy, stable home to lay their head at night.
San Diego Habitat contributes to that vision by tithing a percentage of local funds every year to Habitat for Humanity International's global efforts — in more than 70 countries. Local funding each year helps create long-term, sustainable solutions that tackle the root causes of global poverty, such as inadequate access to land, lack of access to financial services, and gender inequality. Activities include homebuilding, disaster response, financial assistance and literacy training, supporting women's leadership, and access to clean water and sanitation.
FAMILIES SERVED IN FY22 THROUGH
GLOBAL MISSION FUND
TOTAL TITHED SINCE OUR FOUNDING
TOTAL INTERNATIONAL FAMILIES SERVED
SINCE OUR FOUNDING
financial assistance and literacy training
supporting women's leadership
Total Support + Revenue
| | |
| --- | --- |
| Retail Store, Net | $1,686,174 |
| Contributions | $846,638 |
| In-Kind Contributions | $530,121 |
| Special Events | $155,218 |
| Grants | $1,873,334 |
Sales of Homes
$3,282,968
Mortgage Loan Discount Amortization
$301,836
Investment Loss
($13,985)
Other Income
$661,162
| | |
| --- | --- |
| Total Support + Revenue | $9,323,466 |
Total Expenses
| | |
| --- | --- |
| Cost of Homes Sold and Program Support | $7,284,500 |
| Management and General | $722,818 |
| Fundraising | $899,114 |
| | |
| --- | --- |
| Total Expenses | $8,906,432 |
Net Assets
| | |
| --- | --- |
| Beginning of Year | $3,289,796 |
| End of Year | $3,706,830 |